Ed Lyons is a Visual Performance Consultant based in Wolverhampton and is a Director of Flint and Partners Optometrists and www.edwardseyewear.com  
He has developed an innovative approach to assessing the visual profile of an athlete that has seen his clients win Domestic, National, International and World titles, and him win the accolade of SportsVision Practice of The Year at the Optician Awards!  
Ed has worked also worked with and supplied products to Arsenal FC, Burnley FC, Southampton FC, West Ham United and Wolverhampton Wanderers, alongside England Women's RFU, individual Premier League Rugby stars, domestic and foreign Special Forces operatives and even a senior member of the British Royal Family! 
He was a Finalist in the AOP Optometrist of The Year 2020.
He regularly features in Clay Shooting Magazine, Pull! and Clay Shooter, in addition to writing for Clay Shooting Success, Clay Target Nation and Shootclay.co.uk 
As a keen shooter himself and having assessed clients from all over the UK and Europe, to South Africa, Cyprus and Australia, he is uniquely experienced in all aspects of vision and shooting and is considered to be amongst the most knowledgeable practitioners in the world.
Having invested heavily in class-leading equipment from Senaptec, EyeCarrot, TopCon and RightEye, an Eye Examination with Ed is like no other!
Assess, Analyse, Improve!
A SportsVision Consultation will help you see and perform to your best!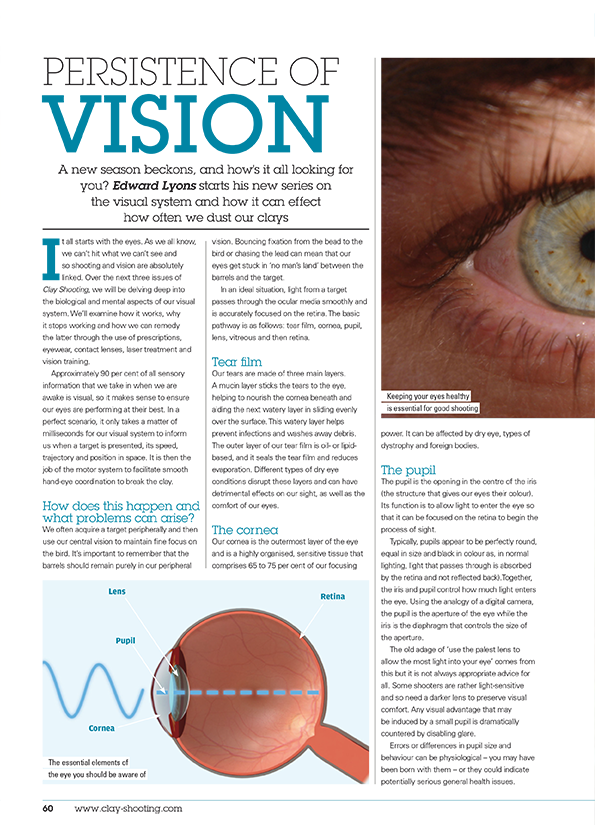 Persistence of Vision
Ed Lyons starts his series on the visual system and how it can effect how often we dust our clays
Read Ed Lyons' series of articles about the visual system.
Vision and shooting are intrinsically linked – the accuracy with which you see the target dictates how you make the move to shoot it.
What if you could improve that process and make your visual system more efficient?
Now you can!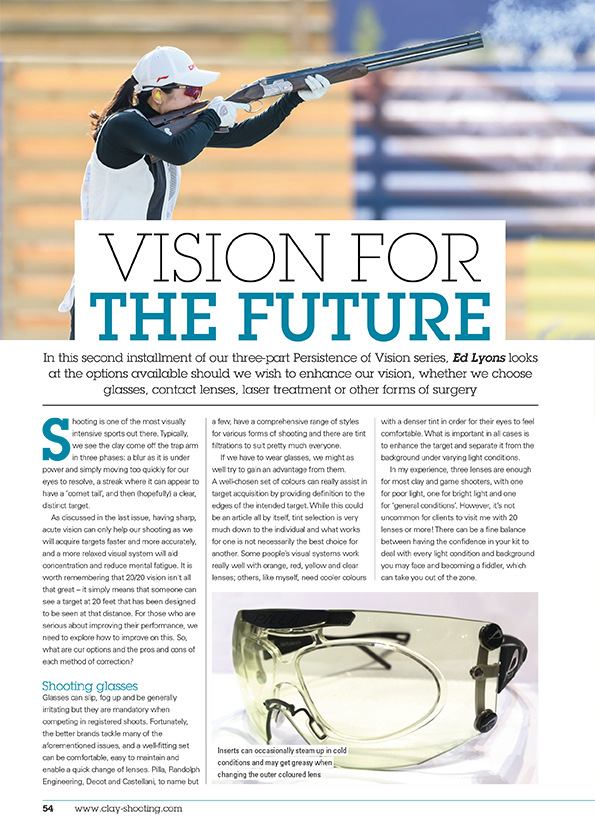 Vision for the Future
Ed Lyons looks at the options available should we wish to enhance our vision.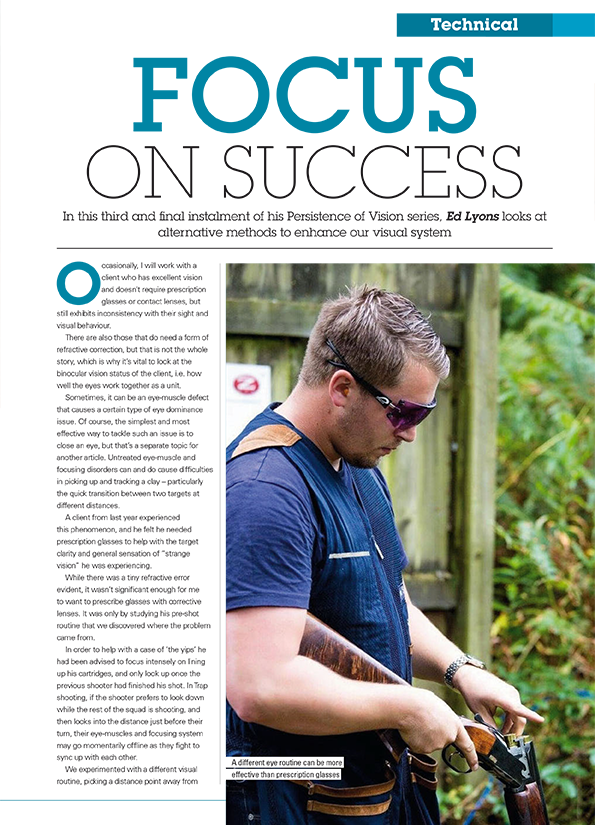 Focus on Success
Ed Lyons looks at alternative methods to enhance our visual system
Arrange a consultation today
See better shoot better with Ed Lyons in partnership with Pilla Sport
Exclusive UK manufacturer of Pilla Prescription Eyewear
No more inserts - fully glazed lenses! PLEASE WHATSAPP ME RATHER THAN EMAIL!